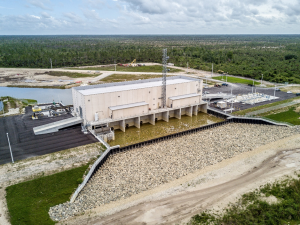 By Michael Alexakis
With the FSAWWA Fall Conference fast approaching (it will be held November 25-29 at the Omni Resort at ChampionsGate), the Contractors Council has been hard at work organizing and preparing key events.
This year we will be holding a project funding workshop with a group of panelists hosted by the council to discuss how to fund your next water infrastructure project. There are several areas that owners can tap into for funding, including State Revolving Funds (SRF), Water Management Cooperative Funding Initiative Program (CFI), United States Department of Agriculture Water and Environmental Program (WEP), Water Infrastructure Finance and Innovation Act (WIFIA), and private funding, just to name a few. Come join us November 27 from 8:30 to 11:30 a.m. to learn more!
In addition to the workshop, the council is leading the effort to organize the most talked-about event of the conference: the BBQ Challenge! Come join us November 26 in the evening for some terrific food, open bars, and a great atmosphere! To maximize the potential of the event we are looking for sponsors!
If you want to learn more about the workshop, or if you would be interested in being a sponsor for the BBQ event, please reach out to me at malexakis@whartonsmith.com
Michael Alexakis is senior project manager with Wharton-Smith Inc. in Sanford and is vice chair of the FSAWWA Contractors Council.